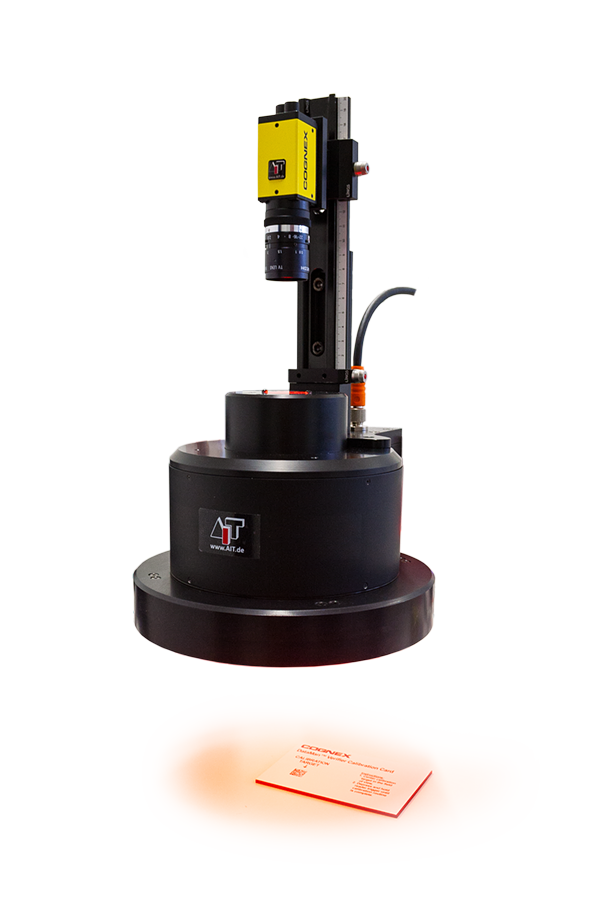 In addition to the well-known In-Line ID reading systems based on the proven AIT EasyID software, AIT offers a complete program for the verification of Data-Matrix codes according to AIM DPM-1-2006.
The AIT EasyID Verifyer verification station is a compact, adjustable structure for small and large parts, consisting of a sturdy aluminum profile frame with 3 adjustable axes and position indicators, a base plate with M6 drill grid for mounting of brackets, clamping devices and component holders. Also, it is possible to darken from above and laterally via curtains. Optionally, a mobile substructure with drawer cabinet can be installed.
Furthermore, the AIT EasyID Verifyer includes an evaluation unit, consisting of an In-Sight® Micro camera system with 640×480 pixels (optionally 1600×1200) and a 4-quadrant illumination module and a dome type incident light.
The simple integration of a PC via Ethernet into the control cabinet and the intuitive menu-guided software with article management (storage of axis positions, exposure time, etc.) complete the system.
In addition, the verification result is recorded with image, individual quality and flaws. Protocols may also be printed.
For you as supplier of Data-Matrix-Codes
You can guarantee your customer a constant quality of the codes and prove it with the quality protocol
You may ensure that the generated codes have a minimum quality according to AIM-DPM. This ensures that your in-line devices or those of your customer can read the code reliably
You recognize deteriorations in the setting of the marking device and can react immediately
For you as a user of Data-Matrix-Codes
The quality of the delivered codes can be easily determined
With the inspection log, you have a neutral valuation option for your vendor